5 Awesome Indoor & Outdoor Dog Games for Your Pooch
Your Pooch Will Never Be Bored Again with These Dog Games!
Throw, fetch, repeat. Throw, fetch, repeat. Playing classic fetch with your pooch can get boring after a while. Instead of playing the tedious game of fetch, switch it up with these dog games that are not only fun for the pup, but for you too! These dog games are a great way for you and your family to bond with your dog, along with increasing your dog's alertness and social skills. Here are five awesome outdoor dog games to play with your pooch.
1. TRIXIE Dog Activity Flip Board
This flip board is full of fun activities for your pup! Put your dog's intelligence to their fullest potential with this flip board. While your dog channels their inner curiosity, excitement and energy, they're building also building mental skills. The flip board rewards your dog with treats for opening the different compartments correctly, making this one of the best dog games out there. There's a non-slip rubber rim placed on the bottom to ensure the board stays still while your pup plays. Buy the TRIXIE Dog Activity Flip Board here.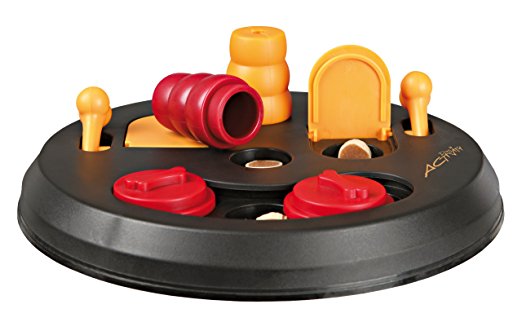 Image provided by Amazon.com.
2. iFetch Interactive Ball Launcher
OK, we know that fetch can get boring – but most of the time it only gets boring for the human. Your pooch could fetch that ball for hours and hours. Now with the iFetch, they can! Your dog will never be bored again; they can play fetch until their little heart desires. There are different versions of the iFetch for big and small dogs. Shop the iFetch Interactive Ball Launcher here.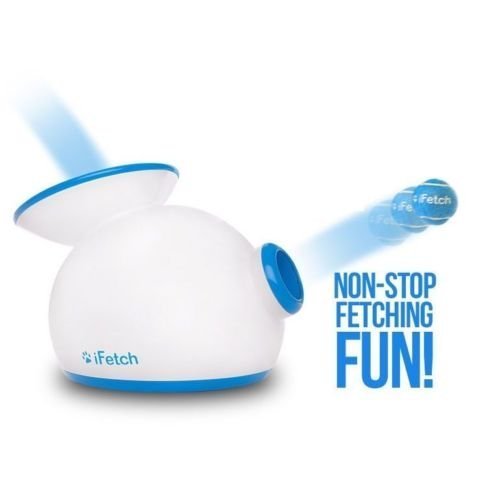 Image provided by Amazon.com.
3. The Tether Tug Outdoor Dog Games
Place the Tether Tug in your yard, and let your dog play away! This outdoor dog game is a great way to channel your dog's energy in a healthy way, while engaging them physically and mentally. If your pup is on the larger side, the Tether Tug has an XL side (for dogs 60-90 lbs), and an UBER size (for dogs over 100 lbs). This is one of our favorite dog games – not to mention it's hilarious watching your dog play tug-of-war with a giant stick. Shop the Tether Tug Outdoor Dog Games here.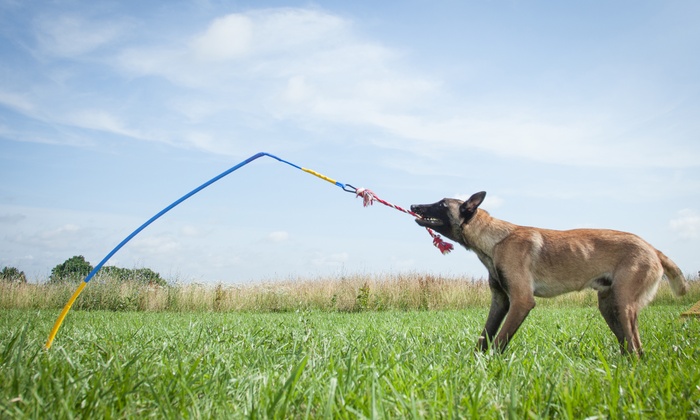 Image provided by Groupon.com.
4. Ethical Pet Seek-A-Treat Shuffle Bone Dog Puzzle
Two words: dog puzzle. How cute is this idea?! This dog IQ puzzle challenges your dog to complete the task to receive their favorite treat inside, which is great for mental stimulation! Oh yeah, and this dog puzzle is only $10.99. Score! Shop the Ethical Pet Seek-A-Treat Shuffle Bone Dog Puzzle here.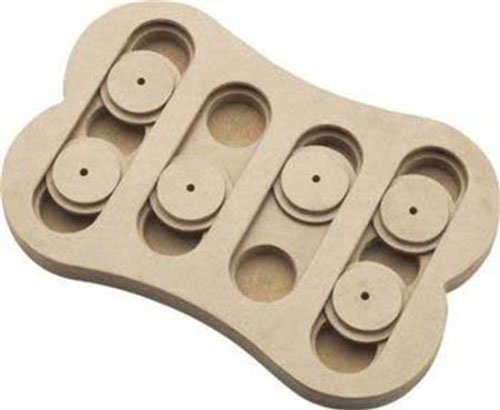 Image provided by Amazon.com.
5. Furbo Dog Camera: Treat Tossing, HD Wifi Cam, and 2-Way Audio
This may not technically be considered "dog games," but we think this is one of the cutest dog products out there. While you're away and missing your dog, turn on Furbo and play a game of fetch with your pup from anywhere (or you could bring them to Paw Lofts, and we'll give them plenty of treats and hugs)! Furbo has a HD camera and two-way chat so you can talk to your pup just like you're there. Oh! Don't forget about the barking alert – when your dog barks, it sends a notification to your phone so you can chat with them through Furbo. Shop the Furbo Dog Camera here.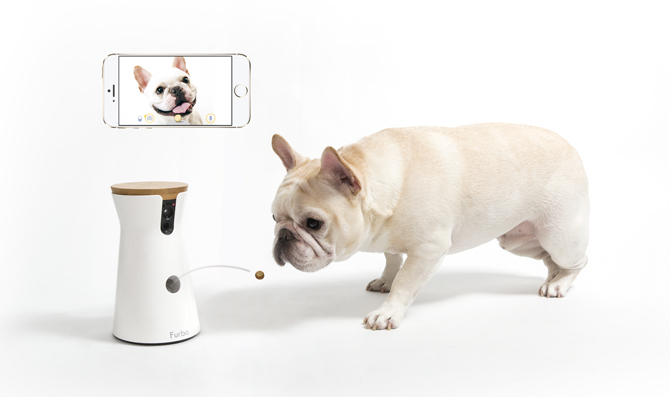 Image provided by Amazon.com.
If dog games aren't enough to keep your dog entertained while you're away, bring them over to the new Paw Lofts in Dallas!